| | |
| --- | --- |
| | This page is a work in progress, was editing it and left halfway through so please do not edit it until it is marked as complete before you contact the user or enough time as passed for the page to be considered abandoned. Use the page for any relevant input you might have please. |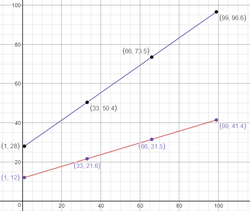 This page shows statistic of every hero in the game from level 1 to level 99, including level 1,000. Hero statistic works based in the formulas:
Rarity Point value will be 1, 2, 6 and 12 for Common, Rare, Legendary and Ascended respectively.
The image to the right is an example for Carl, where the purple line is health and the red line is for damage.
Note: The heroes with level 1,000 are only encountered in Daily Quest and can't be levelled up in Hero Manager.
Lady of Twilighht

Hunter

Carl

Jet

Ailen

K41RY

Aquortis

Rudean

Ourea

Oymos

Hama

Toth

Bylar

Taint

Raze

Sparks

Werewolf

Billy

Christmas Elf

Fir

Dicemaster

Valor

Rokka

Pyromancer

Bewat
Shaman

Nimue

Geron

Faefyr

T4URUS

Aeris

Aural

Erebus

Xarth

Hallinskidi

Ganah

Boör

Putrid

Ruin

Tiny

Jack'o Knight

Sanqueen

Reindeer

Sexy Santa

5-12-6

Frosty

Leaf

Luxurius Maximus

Nicte

Forest Druid

Ignitor

Undine

Chroma

Petry

Zaytus

Lady Odelith
Legendary

Edit
Alpha

Athos

Rei

Auri

TR0N1X

Geum

Geror

Pontus

Atzar

Rigr

Dagda

Bavah

Defile

Seethe

Veildur

Brynhildr

Groth

Zeth

Koth

Gurth

Sigrún

Koldís

Alvitr

Arshen

Rua

Dorth

Kumu-san

Liu Cheng

Hidoka

Buccaner Beatrice

Corsair Charles

Marauder Magnus

Nebra

James

Leprechaun

Dr.Hawking

Neil

Dullahan

Cliodhna

Santa Claus

Kedari

Flynn

Pokerface

Spyke

Aoyuki

GaiaByte

Shygu

Thert

Lord Kirk

Neptunius

Hosokawa

Takeda

Hirate

Hattori

Mahatma

Jade

Edana

Dybbuk
| | | | | | | | | |
| --- | --- | --- | --- | --- | --- | --- | --- | --- |
| | Ascended Alpha | Ascended Athos | Ascended Rei | Ascended Auri | Ascended TR0N1X | Ascended Geum | Ascended Geror | Ascended Pontus |
| Ascended Atzar | Ascended Rigr | Ascended Dagda | Ascended Bavah | Ascended Defile | Ascended Seethe | Bubbles | Master Lee | Raider Rose |
| Guy | Ascended Shygu | Ascended Thert | Ascended Lord Kirk | Ascended Neptunius | Ascended Hosokawa | Ascended Takeda | Ascended Hirate | Ascended Hattori |