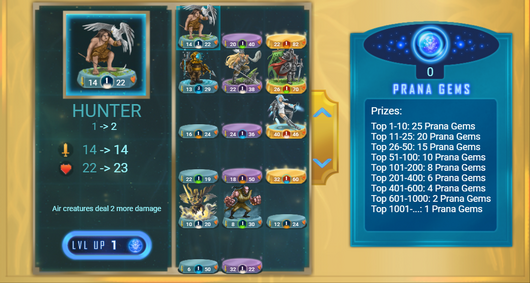 Hero Manager
is a feature added in
v2.4.0.0 Patch
, which locates in
God's Miracles
. Here you can use
Prana Gems
to level up
heroes
and ascend legendary
chest heroes
, except
James
which are purchased from One-Time Offer in Shop.
For each hero rarity, the cost of resources would be different:
Common: 1
Heroes obtained from completing Quests or received from an event can also be leveled up using Cosmic Coins, at the same rate as Prana Gems.
Leveling Strategy
Edit
All chest commons should be maxed first. Commons are known as the high-drop-rate hero in Treasure Chests, and when a common is maxed, it will no longer come up in Treasure Chests or Hero Chests, that would be mean you can level random rares and legendaries without any cost of

Prana Gems. After maxing all commons, you should begin to level rares, all of them, so the chest will only drop legendaries only, which you can save up to 12

.
On the side of Quest heroes, commons is also recommended to maxed first. This will help you in reaching some low levels of Daily Quest (about 35 - 45) or completing a low page quest so you can obtain a higher rarity hero.
Patch History
Edit
v2.9.6.0:

James remake now it's levelable.

v2.7.2.0:

Move seer heroes after primordial.
Remove non-own season heroes.

v2.7.1.0:

Leveling quest heroes with Cosmic Coins.

v2.6.1.0:

Leveling One Time Offer heroes is no longer impossible. (James excluded)

v2.4.0.0: